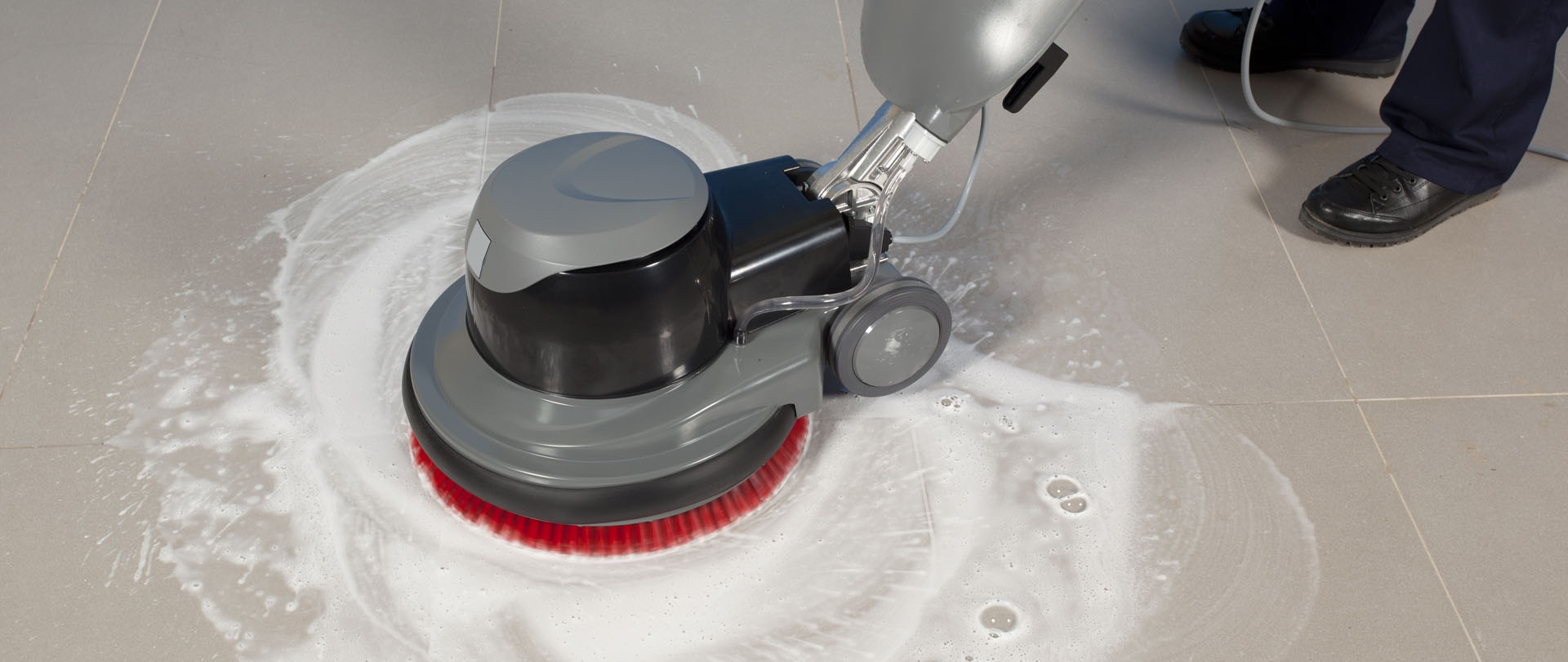 Commercial Tile and Grout Cleaning
Commercial building, workplaces, schools typically use and have varied kinds of tiles on floor, entryways, bathrooms and in areas where footfall is reasonably high. Though tiles are long lasting and can withstand weathering, but with time these tend to lose their original shine and lustre especially if not cleaned regularly. Cleaning tiles by using abrasive or harsh chemicals may damage them permanently and require an expensive alternative i.e. replacement. Above that grout is quiet porous and has the tendency to absorb dirt and debris. Mopping or cleaning the surface would remove dust just from above leaving embedded dirt in its place.
How do we do the commercial tile and grout cleaning?
Ok, well you might say, "I mop my floors so I don't need to have them professionally cleaned". In fact mopping is part of a good maintenance program but the fact is mops don't pick up everything they tend to spread things around and especially into grout lines.
Induct Clean is a thorough professional commercial tile and grout cleaning company. Our cleaning process is :
1. Firstly, our team of professional cleaners would inspect your tiles and determine the best cleaning process.
2. We then apply special chemicals to loosen up everything in the grout lines.
3. Following this, our trained team use the special equipment/ tool to clean your tile and grout. This tool uses 240 degree water to flush out everything in those grout lines with a 1000 pounds per square inch water pressure. The water with dirt, waxy buildup is then vacuumed back into our truck.
With that temperature and pressure not even the single bacteria stand a chance to survive. By taking our best in class commercial tile and grout cleaning services, you will get well-cleaned tiles.
How much time does it take to clean the tiles?
Though not a time consuming process, but the actual time would depend upon the area to clean. Apart from this, size of the tiles & amount of soil in the grout lines also define the time and kind of tool to be used in commercial tile and grout cleaning.
Induct Clean is the tile and grout cleaning company which gently but very effectively cleans the floors. Our professional cleaning services give a complete makeover to tile.
Frequently Asked Questions
What is the best time to take commercial tile and grout cleaning services?
There is no specific time or season for tile and grout cleaning. So you can get this done as per your convenience.
Why should I hire professional tile and grout cleaners?
Dust and dirt is everywhere in the environment. It gets settled on floor, carpet, furniture, on tiles and in grout lines etc which needs regular cleaning. But many a times it is not possible to clean the surface without professional help. Qualified and licensed team knows the job of tile and grout cleaning, type of equipment and chemical to be used & cleaning process to follow. Team at Induct Clean is trained and licensed to carry out the task professionally. They work to remove the deep down dirt to give you spot free tiles.
How often should I clean my floor?
The frequency of floor cleaning depends upon the foot traffic, children and pets at home. All these along with how regularly you clean your tiles and grouts define the need of professional floor cleaning.
What is the importance of sealing grout lines?
Sealant is nothing but a protective layer over grout. Grout being a very porous material has a tendency to absorb spills and soil. With a layer of sealant the absorption is delayed and you get more time to clean grout. Degree of stain resistance depends upon the kind of sealant used.
How much time does sealant take to dry?
Though sealant takes a complete one day (24 hrs) to get settled but it is recommended not
to walk over the floor for at least 30 minutes after applying sealant.
If you have any query regarding tile and grout cleaning, then Induct Clean is just a call
away!!!
Give us a call
(609) 265-0775
(215) 917-0220
Or
Fill the Contact Us form