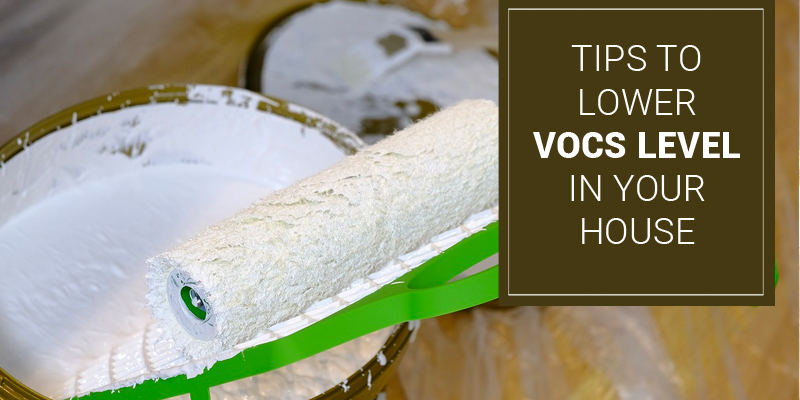 Do you know VOCs (Volatile Organic Compounds) are polluting your indoor air?
It is normal to store unfinished bucket of paint, varnish, some craft supplies and other such items in your home for later use. But are you aware that these products emit VOCs (Volatile Organic Compounds) and damage the indoor air quality?
As per the EPA, VOC levels are up to 10 times higher indoors than outdoors.
So, you must know about VOCs, and how to keep these compounds under check to stay away from their hazardous health effects.
What is VOCs?
Volatile Organic Compounds or VOCs are the organic chemicals in paint and many other household products such as dyes used in upholstery and carpet, cleaners, varnish on the wooden floor, paint thinner, wood preservatives, and adhesives etc. VOCs are released into the air from these products that damages the indoor air quality. Mostly undetectable or unnoticed, but you can smell VOCs if the concentration is high.
The federal government caps the limit of VOCs in paint and you must check it before purchasing any such product. It is imperative to keep the VOCs level low or to a negligible level in your home.
Common Sources of VOCs
Paint, Varnishes
Adhesives
Vinyl flooring, carpet
Composite Wood products
Upholstery and foam
Air fresheners and cleaning products
Cosmetics
Smoking
Burning wood
Common Symptoms of exposure to Low and High level of VOCs
VOCs directly affect eyes and throat leading to eye and throat irritation and headache. Constantly breathing in the air with low concentration of VOCs may cause headaches or dizziness. Whereas, exposure to high levels of VOCs is dangerous. Though, not certain, but according to the U.S. Environmental Protection Agency, some VOCs are suspected carcinogens.
Short Term Exposure
Eye, nose and throat irritation
Headaches
Nausea or vomiting
Dizziness
Worsening of asthma symptoms
Long Term Exposure
Cancer
Liver & kidney damage
Central nervous system damage
How can you keep VOCs level low?
Discard off all the extra stuff that gives off VOCs or keep the left over paint in an outdoor shed where you do not spend much time.
Secondly, look for product with low concentration of VOCs as these products are easily available.
Look for wooden furniture made up of no-added-formaldehyde-free wood.
It is not possible to curb the VOCs level to zero but you can reduce it to minimum by increasing the fresh air in your home. Keep the windows open for an hour or so, once in a day for fresh air circulation.
To maintain a regular air flow, regularly check the ventilation system of your home. It should be free from dust and debris.
Clean the air filters, air ducts and schedule a maintenance check for your heating and cooling system.
About Induct Clean
Induct Clean is a Licensed and Fully Insured Service Company that operates in the New Jersey and the Pennsylvania/Tri-State Area. We have one of the highest quality cleaning equipment and the most efficient restoration capabilities in the area. We also cover South Jersey, Central Jersey and Philadelphia and offer air duct cleaning, dryer vent cleaning, carpet cleaning, tile and grout cleaning and upholstery cleaning services as per NADCA and IICRC guidelines.
Give us a call for any query.
Know more about Induct Clean