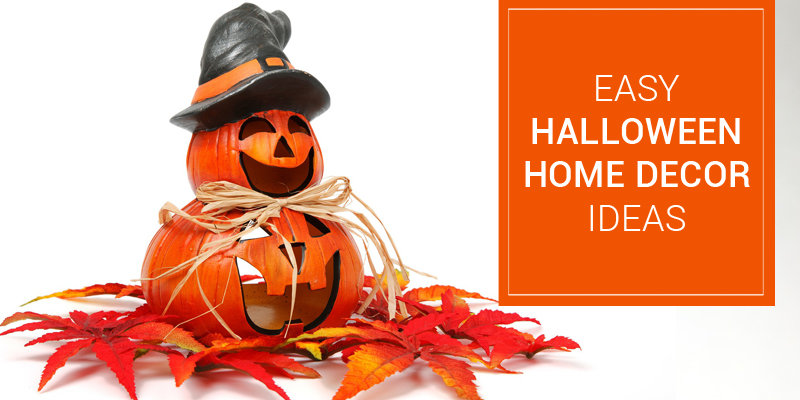 Transform Your Abode into a Spooky Place for Trick-or-Treaters with easy Halloween Home Décor Ideas
Halloween is just around the corner, and everyone is busy in giving the spookiest or just a little eerie look to their homes. Shadowy scene, witch pumpkin, black cat and bat crafts are some of the favorite budget-friendly setups. So, are you all geared up to enjoy the  Halloween and do the decor? Induct Clean team shares few easy-to-do Halloween home décor ideas.
Halloween-ing Up your Entrance! – Your home lawns, drive-way and entrance should adhere to the spooky theme. Get your favorite pumpkin / gourd from any craft store. Color it white and rub a little with sand paper to bring out its original green and yellow color. Get some Spanish Moss and place the pumpkin on it at the entrance.
Adjacent to pumpkin craft place a transparent vase containing small skulls and shells.
Create a scary scene for trick-or-treaters and party guests by placing a headless horseman figure. Here is the link  – How to make a Headless Horseman figure Tutorial.
Haunt your front yard further with floating white fabric ghosts.
Give your Halloween guests a fright by adding black and flickering lights.
Play a scary sound track that send shivers up the spines of trick-or-treaters.
How to Make Floating & Hanging White Fabric Ghosts – To create a spooky surrounding, make hanging ghosts. Take the white paper lantern without lighting kit and drape a white fabric all over it. Make a slit in the top of the fabric and let the metal hanging hook of the lantern to pop through. Tie a string to the hook and hang the white fabric ghost. Trim the extra fabric, if required. Take a black marker to make eyes and mouth. Or else you can take a piece of black felt or foam and glue it on the fabric to make eyes and mouth.
Bring in Colors – Amid of scary ambience, you can also add color by doing a table candy display. Keep your most favorite candies in the jars on the table to add fun and color element.
You can also construct a colorful piñata serving both as Halloween home décor and giving your theme a colorful look.
Now, even if the trick-or-treaters have the courage to enter your scary home, give them a reward and enjoy the festival in high spirits.
Induct Clean team wishes all of you a very Happy and scary Halloween. Once the Halloween is over, we are here to clean your entrance, driveway, carpet from debris or candies stains.
Our Contact Information
New Jersey
(609) 265-0775
910 E. Park Ave Hainesport, NJ 08036
Pennsylvania
(215) 917-0220
5804 Chestnut Street Philadelphia, PA 19139
Toll Free
Email Us!
Happy Halloween!