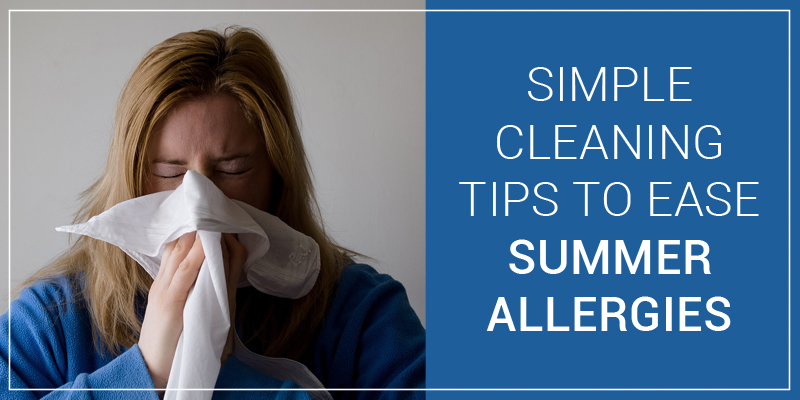 Summers are eagerly awaited but with sunny season comes lots of allergies such as pollen allergy, grass allergy, dust allergy and so on. Though not all but following a routine house cleaning tips may help in easing out most of the summer allergies. So here are the simple cleaning tips to ease summer allergies if you are trapped in its vivacious cycle.
Regular Vacuuming – Try to vacuum twice or thrice in a week and ensure that the vacuum has HEPA filter. Some allergens are so small that by vacuuming you shoot these in air you breathe. Dust regularly, possibly with disinfectant cleaning wipes.
Do not shampoo carpet with scented cleaners as it may worsen the allergies.
Reduce Clutter – Clutter is the hiding space of allergens. So keep your home clutter free to reduce the allergies. Follow the minimal approach.
Clean Area Rugs and Upholstery – Rugs, foot mats, drapes, upholstery and other home furnishings accumulate dust more than anything else and become the source of allergens. Hence, we recommend a regular cleaning of these.
If you need professional carpet cleaning, you can trust Induct Clean as we are a fully licensed company operating in Philadelphia, New Jersey and Tri-State area. Check out our carpet cleaning process.
Get Air Ducts Cleaned – Dirty air ducts could be one of the major source of allergens at your home. Over a period of time mold, dust, pollen and more unwanted stuff of this kind get settled inside air ducts. Therefore schedule an appointment to get your air ducts thoroughly inspected and cleaned. Induct Clean Air Duct Cleaning
Change your bedsheets once in every week – To keep the germs away make sure to change bedsheets every week. Wash the used bedsheets in warm to hot water to kill germs.
Go with the dust proof covers for mattress and pillows.
Wear a mask while cleaning – If you are prone to dust allergies, then always wear a mask while doing home cleaning.
Few more quicker tips to reduce allergies during Summer
• Do not take your shoes inside your home
• Clean doorways
• Use wet cloth or disinfectant wipes to dust.
• Do not left clothing outside as these may pick pollens and allergens.
• Reduce the number of rugs
Easy House Cleaning Schedule to follow
If you need any professional cleaning help like carpet cleaning, air duct cleaning, tile and grout cleaning, upholstery cleaning, and dryer vent cleaning then Induct Clean is just a call away.
Call us now – @ (609) 265-0775 | (215) 917-0220
Or send us an email – info@inductclean.com