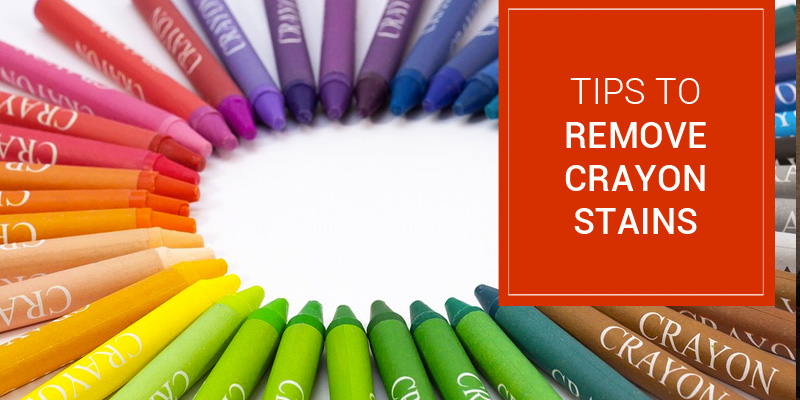 How to Remove Crayon Stain from Wall and Carpet?
First of all, remember to treat the crayon or any other stain as quickly as possible, since a little delay could change the stain into a tough spot. Also while removing stain from carpet, upholstery or wall, make sure not to rub the stain and treat it with gentle dabbing only. Rubbing the stain would push the stain deep into the fabric and dabbing would pull out the stain particles.
Tips to Remove Crayon Stain from Wall
There are many things that can be done to get rid of crayon stain from the wall. One quick tip is –
1. Grab a baking soda and a wet sponge.
2. Dab that sponge in baking soda.
3. Gently buff the crayon stain with the sponge and let the baking soda work.
4. Take a small toothbrush and very carefully use it for the buffing on the crayon stain.
5. Once done, take a soft white cloth, dip it in water and wriggle out the excess of water. Clean the surface with it.
6. Repeat the process if required.
Tips to Remove Crayon Stain from Carpet
1. Take a butter knife and scrape away the excess of crayon. If the crayon is soft, put an ice cube in a ziplock bag and place it on the soft crayon to harden it. You can then easily scrape up the crayon.
2. Mix ¼ teaspoon of liquid detergent (mild one) in 1 cup of water.
3. Test the solution by applying it on a hidden area. It should not discolor or stain the carpet.
4. If you are satisfied with the test, apply the solution on the crayon stained area and let it set for five minutes.
5. Do not rub the stained area. Blot the area with soft, white cloth.
6. Once the crayon stain is removed, rinse the area with water.
7. Blot the area until all the solution is removed.
8. Vacuum the carpet area when the stained area is completely dry.
Parents can also buy washable crayons instead to stay away from stain fuss.
In case the stain is big and prominent and you think you need professional hands to clean it, call Induct Clean today. We are an expert carpet cleaning company operating in Philadelphia, New Jersey and Tri-State area.
We have a long list of satisfied customers in residential as well as commercial arena. All our technicians are well qualified to do the carpet cleaning job and work as per the industry guidelines. We strive for 100% customer satisfaction.
Call us now ! – (609) 265-0775 | (215) 917-0220