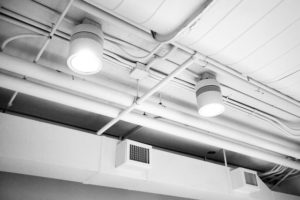 Office air duct cleaning may not be the first thing that springs to mind when thinking of commercial office cleaning, but it plays an important role in factors like air quality and the efficiency of HVAC systems. In this post, the experts at Induct Clean discuss the benefits of office air duct cleaning.
Air Quality
Clean air ducts lead to improved air quality in your space, especially if poor air filtration or duct leaks have allowed dust to enter your ductwork. Dust can build up in air ducts over time, only to loosen and re-enter your air. Cleaning air ducts removes this build-up, and having ductwork inspected can help repair and prevent duct leaks.
Pest Clean Up
Insects, mice, squirrels and other critters often find their way into air ducts, leaving behind droppings, nests and debris. Particles of these materials can end up circulating through your air and into your space. Air duct cleaning prevents this, along with getting rid of any accompanying odors.
Mold and Bacteria
Moisture can end up in the ductwork of a building with high humidity, or as the result of a leak. This creates the right atmosphere for mold to develop. Mold in air ducts can release tiny spores with adverse effects on allergy and asthma sufferers. The presence of mold also increases the risk of upper respiratory infections, leading to both health concerns and missed days of work. Cleaning out air ducts removes mold and other bacteria that might be present.
HVAC System Efficiency
The fan motor in your HVAC system has to work harder when air ducts are obstructed by debris. Cleaning out air ducts can greatly improve air flow, allowing your system to consume less energy and work more efficiently. The lessened wear and tear on component parts can also increase the lifespan of your system.
Work with a Professional for Office Air Duct Cleaning
A professional air duct cleaning service has the knowledge, experience and tools for the job. Working with professionals comes with the additional opportunity to have air ducts inspected for damage and efficiency.
Induct Clean is a licensed and fully insured service company. We specialize in residential, commercial and industrial areas in the Tri-State area. Our services include air duct cleaning, dryer vent cleaning, carpet cleaning, HVAC cleaning and upholstery cleaning. Contact us today for a quote or if you have questions about our services – our team of experts is ready to help!