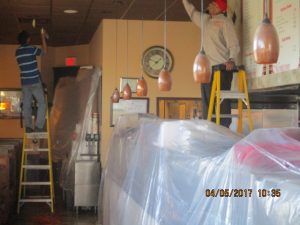 If you haven't cleaned your restaurant kitchen hood and exhaust fan filters for awhile then these are going to look very greasy and sticky from inside. The possibility of blockage with grease increases with time making the cleaning of restaurant kitchen hood and exhaust fan filter a herculean task. However maintaining kitchen hood and exhaust fan filter is not difficult. Follow a regular cleaning schedule and call a licensed kitchen hood cleaners.
When looking for a certified kitchen hood cleaners you and your staff must have a clear understanding of the entire task a contractor is going to do. Hire only that company which is licensed to perform the task and follow all industry standards while doing and completing the resturant kitchen hood and exhaust fan cleaning.
Here is the complete checklist for selecting the best Restaurant Kitchen Hood Cleaning Service in your area-
Know About Your Contractor
Is the kitchen hood cleaning company or a technician you are hiring well qualified?
What all professional certifications and associations do they have?
For how long the cleaning company has been into this industry?
Who are their major clients?
On completing the task, would your contractor give a service certificate or a log entry?
Ask for a complete service report at the end of the work. This report will contain any mechanical issue, issues of accessibility, areas not cleaned and why, and safety concerns.
Kitchen Hood Cleaning Frequency
Every kitchen exhaust system needs cleaning but the frequency varies with the usage and volume of cooking in the resturant. Ask your contractor to do inspection of the kitchen exhaust system to dertermine the kitchen hood cleaning frequency as per the industry standards and need. Grease load can be reduced by regularly cleaning the grease filters.
As per NFPA 96 code – Kitchen Exhaust Cleaning Frequency Requirements:
| | |
| --- | --- |
| Monthly | systems serving solid fuel cooking operations |
| Quarterly | systems serving high-volume operations such as 24 hour cooking, charbroiling or wok cooking |
| Semi – Annually | systems serving moderate-volume cooking operations |
| Annually | Systems serving low-volume cooking operations, such as churches, day camps, seasonal businesses |
Source – Fire Code NFPA 96
Kitchen Exhaust Hood
Check if the kitchen exhaust is clean or not.
Check the working condition of kitchen exhaust hood including air and heat dissipation.
Check if the metal or stainless steel is visible of the kitchen hood interior canopy.
Check kitchen hood duct for any obstruction or grease build up.
Kitchen hood filters should be clean.
Kitchen Exhaust Fan
Cleaning of the kitchen exhaust fan must be included in the scope of cleaning. Ask your contractor about its access.
Check the kitchen exhaust fan for any kind of vibration or noise. It should be clean.
Check the exhaust fan belt for its wear and tear.
Kitchen exhaust fan's bearings must be greased and in good working condition.
Kitchen Exhaust System Access
Ensure proper access to kitchen exhaust system for inspection and cleaning as the internal system which cannot be inspected properly cannot be cleaned completely.
The cleaning contractor may need to install Access Panels incase the access is not appropriate.
As per NFPA standards the cleaning contractor needs to put a sticker on every Access Panel mentioning the date when it was last opened and who did the work.
Induct Clean is a fully licensed and a certified company to carry out commercial kitchen hood cleaning. Induct Clean has served more than 18,000 clients in South Jersey, Philadelphia and Tri-State Area. We are known for our quality work, professionalism and highest quality cleaning eqipment.
Call us today – (609) 265-0775 | (215) 917-0220
Email us – info@inductclean.com
Click and fill a form to Get a Quick Quote