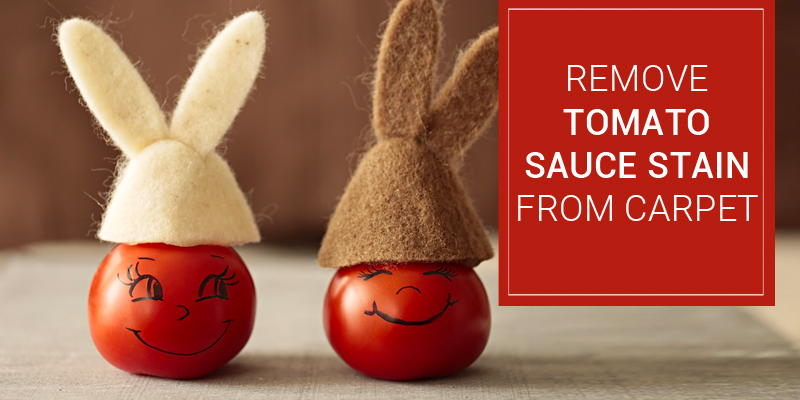 How to Remove Tomato Sauce Stain from Carpet?
Tomato sauce is one of the essential ingredients in pizza, pasta and virtually in many other mouth-watering dishes you relish. But it could be a nightmare if this one delicious ingredient or red sauce gravy splatters on your carpet. Don't worry!!! Follow this simple guide on how to remove tomato sauce stain from carpet and get back your clean carpet.
Method 1 – How to Remove Tomato Sauce Stain out of Carpet ?
For best results, treat the stain as soon as possible. Acting quickly will reduce the set up time of the stain.
If there is any visible solid, then remove it by scrapping or brushing. Do not scrub as it would spread the stain.
To blot any liquid use white soft cloth.
Take one teaspoon of dish washing detergent and mix it in 1 cup of water. Apply the solution at the outer edges of the stains and moving inwards toward the center. Take a soft bristle brush or clean tooth brush and gently rub it on the stain.
Dab some water and blot with white cloth.
Repeat the process till the stain is gone. Dry it completely.
Once dried, vacuum the carpet and reset the carpet pile.
Method 2 – How to Get Rid of Tomato Sauce Stain from Carpet?
Mix 1 tablespoon of hydrogen peroxide with 3 tablespoons of cold water.
Pour a small quantity of the mixture on the less visible part of the carpet for testing. Once ok, pour a small amount on the stained area and let it soak.
Cover the spot with white cloth for about 30 mins. Keep checking it after every five minutes to ensure that there isn't any change in the color of the carpet.
Rinse it with water.
Blot excess of water with white soft cloth.
Still struggling to get rid of the tomato sauce stain from the carpet? Call Induct Clean.
Induct is a fully licensed and insured Residential Carpet Cleaning Company with over 20 years of experience. Our company and our technicians are certified by the Institute of Inspection, Cleaning and Restoration, a non profit organization that establishes and monitors standards for the textile, flooring and upholstery industries.
Here is more about our carpet cleaning process.