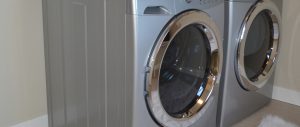 Dryers accumulate lint from clothes. Although every dryer is equipped with a trap to catch lint, some is bound to make it into the dryer vent and cause clogging. When a dryer vent is blocked with lint, it affects how well the dryer functions.  It can also cause overheating and become a potential fire hazard.
So, how do you unclog a dryer vent? The process involves pulling the dryer out from the wall, disconnecting the ductwork, and cleaning the vents with a brush or vacuum. Sound like a hassle?
When you leave your dryer vent cleaning to the professionals at Induct Clean, you'll have the peace of mind that the job was done correctly and thoroughly. We use the technique of high-pressure air to pull the lint from the vents. Because this removes even the lint that gets trapped in the seams of the ductwork, it is more effective than the traditional brush method.
Warning signs that your dryer vent is clogged
Be sure to take notice of how your dryer is operating. The dryer vent is likely to be clogged if you are experiencing any of the following issues:
Dryer is hot to the touch.
Clothes feel very hot at the end of normal drying time.
Heavier weight material is taking extra time to dry thoroughly.
Dryer stops before the cycle is finished.
Exhaust vent hood flap isn't opening during dryer use.
DIY tips for reducing dryer vent clogging
A few maintenance measures can help keep your dryer functioning well and decrease how often you'll need to have the vent cleaned. These three simple steps for limiting lint buildup should be part of your household routine:
Remove and clear off the lint trap filter every time you use the dryer.
Occasionally use a hose attachment on your vacuum to clean the lint trap filter and housing.
Regularly sweep or vacuum the flooring around the dryer.
How do you unclog a dryer vent? Call Induct Clean!
Let Induct Clean unclog your dryer vent to ensure it works efficiently and help keep your home safe. We are a licensed and fully insured company with decades of experience serving satisfied residential and commercial customers in the New Jersey, Philadelphia, and Pennsylvania/Tri-State area. We're happy to answer any of your questions about our services. Get a quick quote online or call us today at (800) 211-0034.