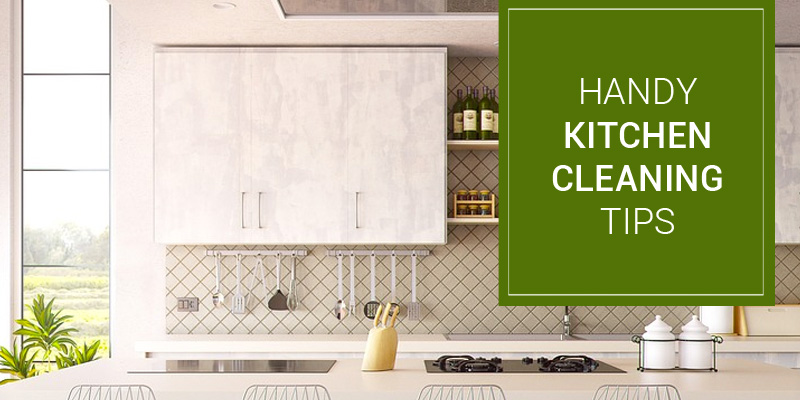 Handy Tips for a Sparkly Clean Kitchen
Kitchen is one of the most important and busy areas in home. For a clean kitchen, you must have a kitchen cleaning routine as per your need and convenience. It should not be cumbersome and shouldn't take more than 10 mins in the morning and evening or else you won't follow it. Once you make this kitchen cleaning routine a habit, stick to it.
So here we go –
Immaculately Clean Kitchen Countertops
The first thing that you notice in the kitchen are the countertops. Nobody likes unorganized, greasy and  filthy kitchen counters. Hence, the best approach here is to keep away the clutter. Make sure to put everything back at its assigned place after each use. Use small baskets to organize things on the counter.
Clear all the marks and stains using clean cloth and cleaning agent. Make sure to use cloth and cleaner appropriate for the material of your countertop.
Don't Accumulate and Get Rid of Extras
EXTRAS means anything that you don't use but taking up a space in your kitchen like expired spices, empty and broken containers, worn out kitchen towels, cleaning brushes, utensils you would never use, stale food and so on. To get rid of extras, start with your refrigerator. Check it daily and take out all the stale and perishable food items that you are not going to eat.
Check kitchen drawers once in a while to look for the utensils that are of no use to you neither now nor in future. Take out all these and trash them properly.
Make Deep Cleaning an On Going process
We suggest to deep clean at least one part of your kitchen once in a week. Such as, the first week could include the cleaning of microwave, overhead exhaust fan, the next week could be the turn of dishwasher, following this you can clean utensil drawers and so on. This will make the kitchen cleaning an on going process and you won't feel a burden of it.
Sink should be Spotlessly Clean
Sink is the easiest to clean area in the kitchen but not cleaning it after every wash would result in the accumulation of grease over a period of time. Your sink will start to stink. For a sparkly clean sink, sprinkle some baking soda powder and let it set for 30-45 sec. Take a sponge, gently rub the sink and wash with water to get a clean sink in no time.
Broom the Floor and Mop it
Unquestionably, kitchen is the most used place in any home. Hence, it is obvious to find spills, crumbs, and other such stuff on the kitchen floor. Therefore, you must broom your kitchen floor daily, if possible. After this, thoroughly mop the floor using disinfectant.
Hope these cleaning tips will help you in keeping your kitchen clean.
Just in case, you need professional hands to clean your home, call Induct Clean. We have served more than 18,000 clients in Philadelphia, and South Jersey. We specialize in residential, commercial and industrial cleaning and offer
Air Duct Cleaning
Dryer Vent Cleaning
Carpet Cleaning
HVAC Cleaning
Upholstery Cleaning