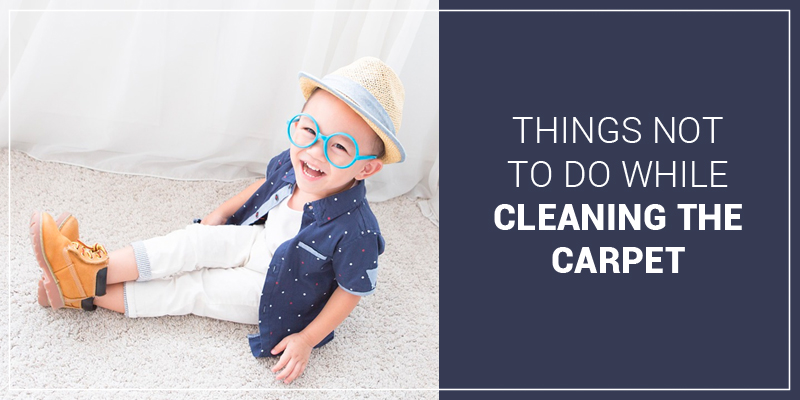 Do not Try this or Else Your Are Damaging Your Carpet While Cleaning
Clean the spill as soon as you get it or before it sets up to form a hard stain, vacuum once in a week, not to walk on wet carpet are few of the tips to keep your carpet in a good condition. But there are many other things that we know about carpet cleaning are nothing but just myths and misconceptions. You must be aware of these to prolong the life of your carpet by not damaging your carpet while cleaning.
Using strong chemicals/cleaning agents without testing it – After seeing the stain, we fall into the trap of using harsh chemicals directly. Some cleaning agents are too strong for delicate carpet fiber and may even damage it forever.
Bleach can clean everything – Do you think so? … This is one of the biggest misconceptions about carpet cleaning. Be it any stain use bleach as a cleaning agent. But you must know that bleach can damage your carpet fibers and more if the carpet is white. So use it cautiously. If your carpet is heavily stained, call a professional carpet cleaner instead.
Over vacuuming your carpet – Though vacuuming your carpet regularly is good but over doing it may damage the carpet. It can tear fibers out of carpet. So do it once in every week.
Using Extra Soap to Clean the Carpet – Most of us believe that more the soap, cleaner the carpet. But this is not true. Soap interacts with water to remove dirt. Using excess of soap means you now have extra soap residue to clean, for which you need more water. Excess of water means more moisture and then the carpet needs extra time to dry. If not dried properly, damage will occur.
Carpet Takes Days to Dry – This is one of the most popular misconception that carpet takes days to dry after cleaning. But any carpet needs just 30 mins to 24 hours to dry. In case it has not been cleaned properly or too much moisture has been used to treat hard stain then it might take longer.
Cleaning Your Carpet will damage its fibers – Most of the homeowners believed that carpet cleaning will damage the carpet fibers. Every carpet is manufactured to withstand cleaning just like our clothes. Cleaning removes dust, and other material, hence lend more life to the carpet. Professional carpet cleaners know how and when to clean it.
Baking Soda and Vinegar can Clean All Kinds of Stains – It is not a good idea to use baking soda and vinegar to clean the carpet. These are chemicals that may damage delicate carpet fibers. Baking soda is generally used to absorb foul smell from the sink or refrigerator but it should never be used for cleaning the carpet.
Use Hot Water – Using hot water on stains from wine, blood, color etc may cause more damage by creating a permanent stain. So avoid using hot water to treat stains.
Incase you have any doubts about carpet cleaning call Induct Clean. We a committed to give our 100 % and work for our customer's satisfaction. Our technicians are trained to clean any kind of carpet. Our team will visit your home on time to inspect the carpet and suggest the best cleaning option.
Call us today @(609) 265-0775 | (215) 917-0220