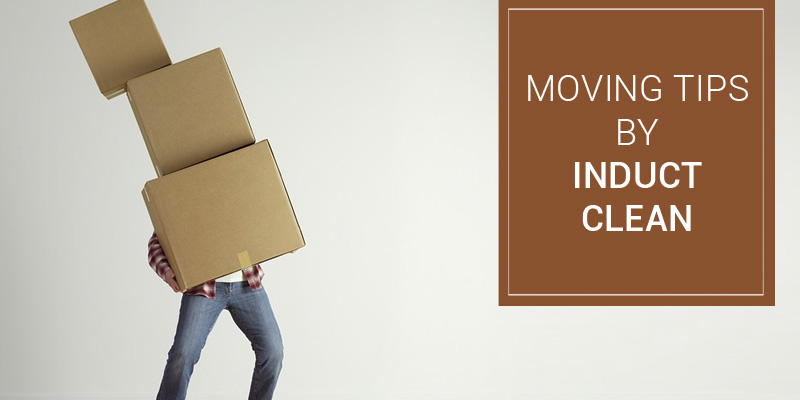 A Complete Moving-Out Checklist by Induct Clean – Carpet Cleaning Company in Philadelphia
Cleaning out an old place before moving is quiet intimidating, but it can be simplified if you know what needs to be done. All you need is a handy moving out checklist, as cleaning surfaces and mending all the damaged stuff mean getting back your deposit money. So here we go!
General Cleaning
Your first task is to look at the walls and ceiling to check if you have put any nail or screw. Remove it, putty them well and color it, if required.
Take a soft, white cloth and dust all the ceiling fixtures.
Clean the windows and blinds.
Clean the doors and door knobs.
Check the area, especially corners, patio and deck for cobwebs.
Vacuum the carpet. If your carpet needs thorough cleaning then call a professional carpet cleaning company. Induct Clean offers the most efficient and reliable carpet cleaning services.
Bathroom Cleaning
Clean the mirror and countertop.
Make a solution of a liquid soap and water. Take a sponge and dip it in the soapy water. Clean the bathtub & tiles and then rinse it with water. Bleach the grout if required.
Clean the shower door.
Clean the vanity, sink and toilet.
Clean the bathroom drawers. Make sure to remove the liners and get all the hair out.
Sweep and mop the floor and disinfect everything.
Kitchen Cleaning
Take the disinfectant and clean the cooking top and countertops.
Clean outside of range hood.
Clean the front of all appliances.
Scrub the microwave from inside and outside. Take out the glass plate, wash it and put it back.
Thoroughly clean the refrigerator by taking out the shelves. Wash these and put these back.
Clean the dishwasher.
Clean the sink and faucet.
Do not forget to clean the area under sink.
Remove all the cobwebs.
Sweep and mop the kitchen floor.
All other Rooms
Vacuum the entire carpet.
Check the walls for putty and color.
Clean the windows and blinds.
Outside Cleaning
Mow the lawns.
Pull out the weeds.
Pressure wash the walkway and frontside.
Remove grass stains from deck.
Kitchen and bathroom are the most tricky areas for cleaning while moving out. Also, if you have a pet, work on to remove the pet smell and hair. Check all the vents.
If you need a professional cleaning services, call Induct Clean. We operate in the New Jersey and the Pennsylvania/Tri-State Area including South Jersey and Philadelphia. We are expert cleaners providing all kinds of cleaning services –