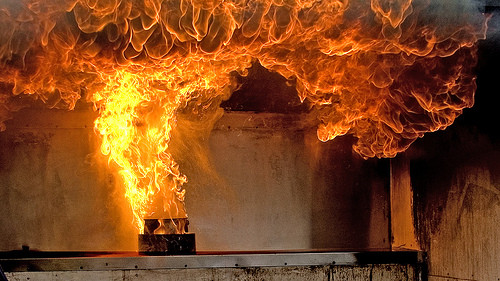 Kitchen Hood Cleaning
Every commercial kitchen and most of the residential kitchens have a hood, a ductwork over the stove and an exhaust fan on the roof to exhaust the steam, smoke and cooking fumes. This exhaust contains oil particles and cooking residue which travel into the kitchen hood, vent hood filters, the kitchen duct work and the exhaust fan. Over the period of time the greasy particles get accumulated inside the kitchen ducts and every other part of the exhaust system. A simple spark from the kitchen cooking line may then cause a severe damage and pose a threat to one's life.
As per National Fire Incident Reporting System (NFIRS 5.0.) cooking is by far the leading cause of restaurant fires, accounting for 64 percent of restaurant fires in 2011-13.
The law has made it mandatory for commercial kitchen in the USA to go for the kitchen hood cleaning, kitchen exhaust cleaning, duct and fan cleaning.
Older building are at higher risk of fire than the new ones as modern ducts are constructed in a way to prevent duct fire. Their welded seams do not allow grease or fire to come out. Moreover the material used for making shafts around the ducts is also fire-resistive.
How often shall I go for Kitchen Hood Cleaning?
Ideally you should clean your kitchen hood, kitchen exhaust in every 3 months. But the time period may vary depending upon the usage and type of cooking.
Kitchen hood and exhaust system over the wood burning and charcoal burning stoves needs more frequent cleaning than other ones. These can be cleaned in two weeks' time or every month.
Restaurants using extra oil for cooking and some hamburger places required cleaning in every 30 days.
Kitchen exhaust system in fast food restaurants must be cleaned in every 60 days.
Kitchen hood, exhaust and fan at hospitals and employee cafeteria needs to be cleaned in every 90 days.
Why to Choose Induct Clean for Kitchen Exhaust Hood Cleaning services?
Induct Clean is a fully licensed company operating in Philadelphia, New Jersey and Tri-State area. Safety, welfare and health of clients is our top priority and that is why we follow all the instructions specified by the state while offering kitchen cleaning services.
Our team of professional kitchen hood cleaners clean all components and ductwork in your kitchen exhaust system. Cleaning the entire system let us check the possibility of any blockage in the kitchen exhaust system as neglecting any component in the entire kitchen exhaust system increases the potential of fire.
Benefits of taking professional Kitchen Exhaust Cleaning Services
Decreases the risk of fire
Saves Energy
Increases the ventillation for smoke
Improves government inspection rating
Cleaner and better environment and thus more business
Induct Team at Work – Restaurant Kitchen Cleaning
| | |
| --- | --- |
| | |
| | Call us today – (609) 265-0775 | (215) 917-0220 |
Related Topic
Checklist for Selecting the Best Restaurant Kitchen Hood Cleaning Company in Philadelphia and New Jersey