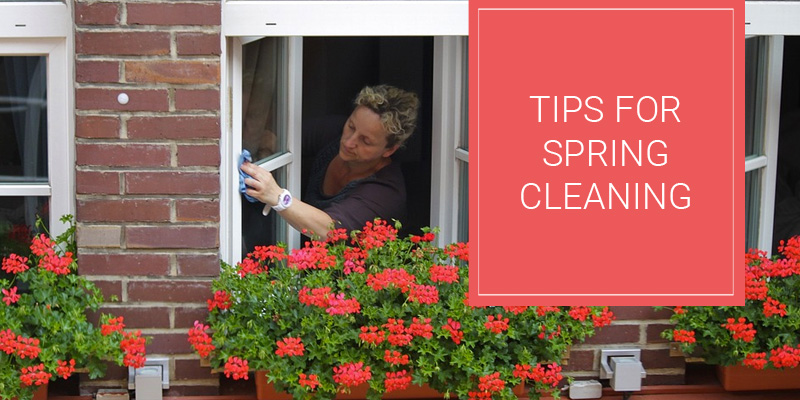 Cleaning Routine for Spring
With weather getting warmer, prepare yourself to clean your home. To efficiently clean the home during Spring season you must follow a simple and doable routine. So, here is an easy-to-do cleaning routine for Spring.
Hidden Areas –
Space under sofas and wall beneath your couch are one of the most concealed places that need immediate attention in terms of cleaning. Check all the big items in your house. If possible move these once in a while to clean the area under and behind these. Pick up all the unwanted stuff with hand and then vacuum the area. In case the furniture is too heavy to move do your best to clean that space.
High and Low –
Spring is the time to clean ceilings, corners, moldings as well as baseboard. Thumb rule is that you need to clean the area above and below your eye level which is normally unseen. Take a microfiber cloth and do the dusting.
Clean the Rugs –
Remove all your rugs and shake these out. This will remove all the accumulated dust, debris, dander or lint. Clean the entire area under them.
Window and Window Panes –
Dust and debris sit on the horizontal windowsill and settled down in window tracks. So it is the time to clean these for a perfect cleaning. Take a small brush to clean the window tracks. You can then vacuum to pull out any other dust particle. If you still see the stuck on dirt, take the all-purpose cleaner to clean the area.
Take a microfiber cloth to clean the window pane, and moldings.
Upholstery –
Consider cleaning the pillows, floor cushions, blankets and upholstery. You sit on them, dead cells from your body get accumulated, also the pet hair, danders and other such unwanted stuff get absorbed into them. This demands deep cleaning. Though you can wash most of the items, but it is a good practice to read the instructions before washing them.
To break down foul odors, sprinkle baking soda and let it sit for at least 30 mins. Then vacuum it up.
It is better not to vacuum sofa cushion and seats filled with down and fester. You can just brush these.
Vacuum –
Vacuum all the floor and thoroughly clean the corners and edges.
Shampoo Your Carpet –
It is the best time to shampoo your carpet. You can either do it yourself or call a professional carpet cleaning company.