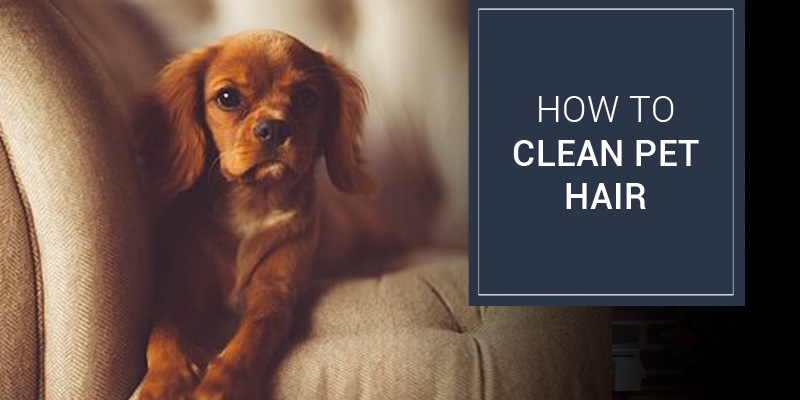 How to Clean Pet Hair?
Dealing with pet hair is one of the most tedious tasks at home, as every time you find more than expected. But being a pet lover it is price you have to pay and deal with it every day. No doubt that regular vacuuming is a way to get rid of pet hair, but you need more. Here are few more tips to keep your home free from pet hair.
Cleaning
Use Electrostatic Dust Mop –
Cleaning hard floor with electrostatic dust mop is  a better idea than using vacuum. An electrostatic mop will trap more pet hair. You can also use microfiber cloth and disposable wipes.
Use Baking Soda on Carpets and Rugs –
Sprinkle baking soda on the carpets and rugs before vacuuming. It will loosen the pet hair as well as deodorizes your carpet. To clean the carpet from its edges and corners, wear rubber gloves, wet the tips of your fingers and move it across the area where carpet meets the baseboard and wooden floor. This will take out the hidden pet hairs.
Use Rubber Squeegee to Clean Upholstered Furniture –
Though lint roller and vacuum work very well when it comes to cleaning upholstered furniture. But, instead you can also use a rubber squeegee or rubber glove to clean it.
Use Microfiber to Clean the Hard Surface –
Take a microfiber cloth and sprinkle a very small amount on water on it. Use this to clean the hard surface for pet hair.
Pet Beds –
Do not miss to clean and wash your pet's bed and blankets. If your pet has any favorite spot to relax, place a blanket there. You can easily wash it and reuse.

Pet Grooming
Pet Grooming and Brushing –
Some pets love to be groomed regularly. Make sure to brush your furbabies regularly. Consider doing it outside, if the weather is appropriate and you have an outdoor pet.

Air Duct Cleaning

Get Your Air Ducts Cleaned Annually –
Pet owners must go for air duct cleaning on annual basis as dander gets settled down in air ducts and keep circulating in HVAC system. If not cleaned, it can reduce the indoor air quality. Inhaling bad air may result in allergies and other health problems.
Call Induct Clean team today. We do air duct cleaning in Philadelphia, New Jersey and Tri-State area.