4 Common Carpet Stains and How to Remove Them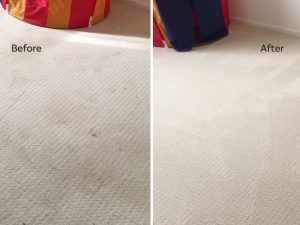 Whether they occur as a result of pet accidents, spilled drinks or muddy shoes, carpet stains are an unavoidable part of home life. As a result, it's important to be equipped with the knowledge necessary to clean up various types of carpet messes to avoid an ugly, permanent mark. Unfamiliar with carpet cleaning techniques? You'll want to read these tips for removing four types of carpet stains that occur commonly in homes:
Pet stains – Puppies, kittens and older pets tend to have accidents in the home, and unfortunately this can lead to unsightly marks on the carpet. When dealing with a pet mess, your first step should be to remove as much of the substance as possible using a paper towel. Next, press down on the spot using a clean paper towel to soak up the moisture. If there is still evidence of the mess, mix a quart of water with a small amount of laundry detergent in a spray bottle and apply it to the area. Leave the solution on for a few minutes and then soak it up with a paper towel, and the stain should be gone! If not, repeat the process until it is.
Blood stains – When a family member gets injured in your household, blood may drip onto the carpet. To remove a blood stain quickly and painlessly, put cold water and 2 tsp. of liquid dish detergent in a spray bottle and spritz it onto the spot. After letting the liquid soak in, dab the carpet with a dry paper towel. In order to get the entire stain out, you may need to repeat these steps several times.
Ink stains – If you've ever experienced a pen explosion, you know that ink stains are no joke – especially on light-colored carpet. Luckily, it's totally feasible to remove ink stains with the right tools. Many common household products, such as isopropyl alcohol, hairspray, nail polish remover and white vinegar, may do the trick – just be sure to test your chemical of choice on a small area of carpet to ensure it does not cause damage. After applying one or more of the aforementioned substances to the ink stain, rinse the area with water and dry using a vacuum or paper towel.
Red beverages – Red wine, Kool-Aid and cranberry juice are all culprits of serious carpet stains. When faced with a red beverage mess on carpet, blot the area dry with a towel. Next, create a mixture of ¼ cup white vinegar and 1 tbsp. liquid dish soap in a spray bottle and dilute it with water. Apply the solution to the stain and let it settle into the carpet for about 10 minutes. Finally, press a dry towel onto the stain to soak up the liquid. If the stain remains, repeat the process until it vanishes.
And that's all there is to it! You're officially ready to deal with pesky carpet stains of all sorts.
Make Induct Clean Your Carpet Cleaning Service in South Jersey
If you're dealing with a major carpet stain that you can't tackle yourself or your carpet is due for a deep cleaning, call Induct Clean, the trusted South Jersey carpet cleaning service. No matter how large or deep your carpet stains may be, our methods are guaranteed to get rid of them. Using our specially designed Induct Steam Cleaning Method, which incorporates hot water extraction and a truck mount system, we'll restore your carpet's pristine appearance as well as the cleanliness of your home.
Interested in setting up an appointment with the carpet cleaning service South Jersey and Pennsylvania/Tri-State Area homeowners rely on? Dial (609) 265-0775 or (215) 917-0220 to speak with a member of the Induct Clean team. Plus, visit our blog for reasons to consider South Jersey winter air duct cleaning as the cold season comes to a close. Thanks for keeping up with our South Jersey carpet cleaning service. We look forward to serving you!
Additional Information on Carpet Cleaning